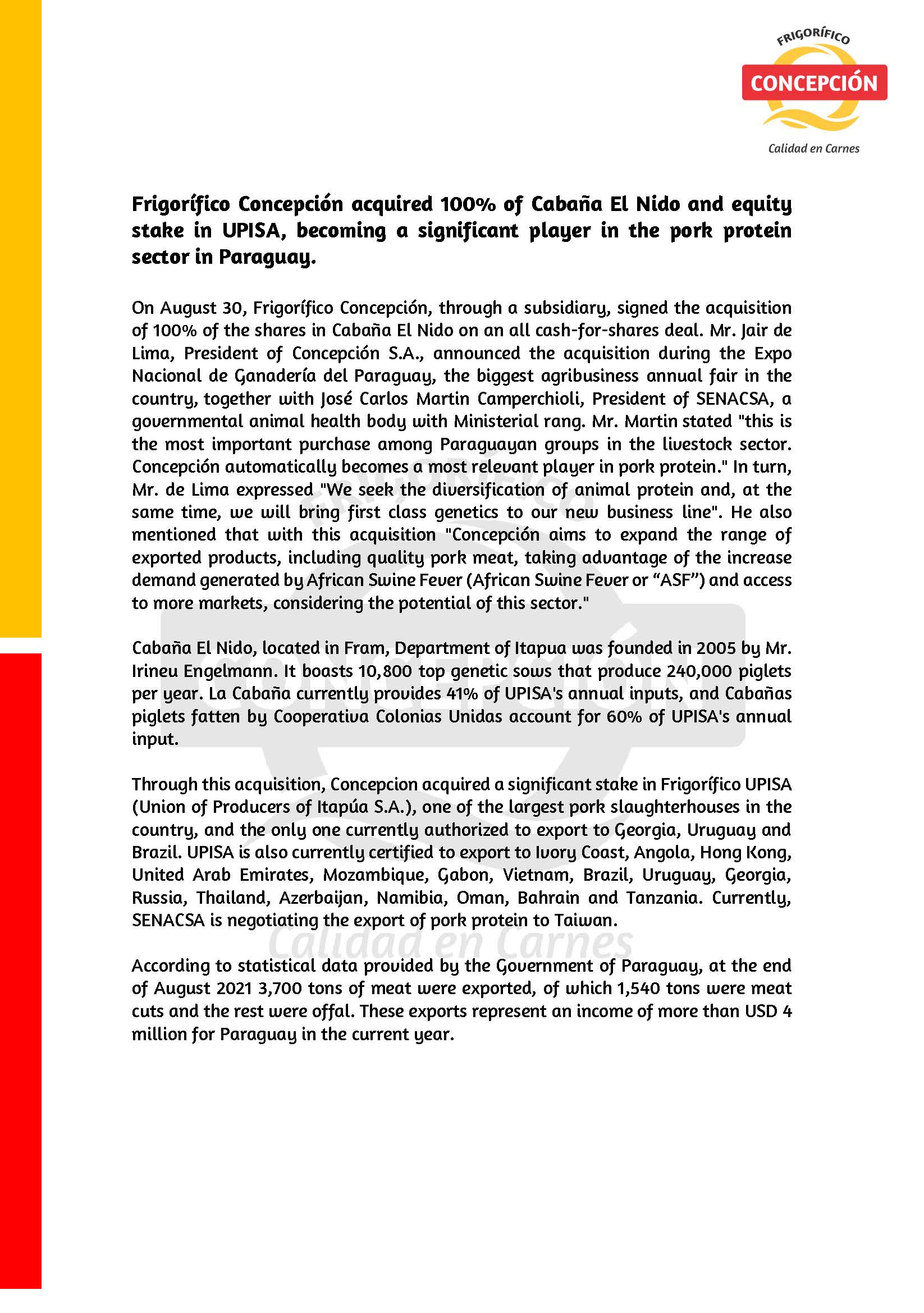 Frigorífico Concepción acquired 100% of Cabaña El Nido and equity stake in UPISA, becoming a significant player in the pork protein sector in Paraguay.
On August 30, Frigorífico Concepción, through a subsidiary, signed the acquisition of 100% of the shares in Cabaña El Nido on an all cash-for-shares deal. Mr. Jair de Lima, President of Concepción S.A., announced the acquisition during the Expo Nacional de Ganadería del Paraguay, the biggest agribusiness annual fair in the country, together with José Carlos Martin Camperchioli, President of SENACSA, a governmental animal health body with Ministerial rang. Mr. Martin stated "this is the most important purchase among Paraguayan groups in the livestock sector. Concepción automatically becomes a most relevant player in pork protein." In turn, Mr. de Lima expressed "We seek the diversification of animal protein and, at the same time, we will bring first class genetics to our new business line". He also mentioned that with this acquisition "Concepción aims to expand the range of exported products, including quality pork meat, taking advantage of the increase demand generated by African Swine Fever (African Swine Fever or "ASF") and access to more markets, considering the potential of this sector."

Cabaña El Nido, located in Fram, Department of Itapua was founded in 2005 by Mr. Irineu Engelmann. It boasts 10,800 top genetic sows that produce 240,000 piglets per year. La Cabaña currently provides 41% of UPISA's annual inputs, and Cabañas piglets fatten by Cooperativa Colonias Unidas account for 60% of UPISA's annual input.
Through this acquisition, Concepcion acquired a significant stake in Frigorífico UPISA (Union of Producers of Itapúa S.A.), one of the largest pork slaughterhouses in the country, and the only one currently authorized to export to Georgia, Uruguay and Brazil. UPISA is also currently certified to export to Ivory Coast, Angola, Hong Kong, United Arab Emirates, Mozambique, Gabon, Vietnam, Brazil, Uruguay, Georgia, Russia, Thailand, Azerbaijan, Namibia, Oman, Bahrain and Tanzania. Currently, SENACSA is negotiating the export of pork protein to Taiwan.

According to statistical data provided by the Government of Paraguay, at the end of August 2021 3,700 tons of meat were exported, of which 1,540 tons were meat cuts and the rest were offal. These exports represent an income of more than USD 4 million for Paraguay in the current year.