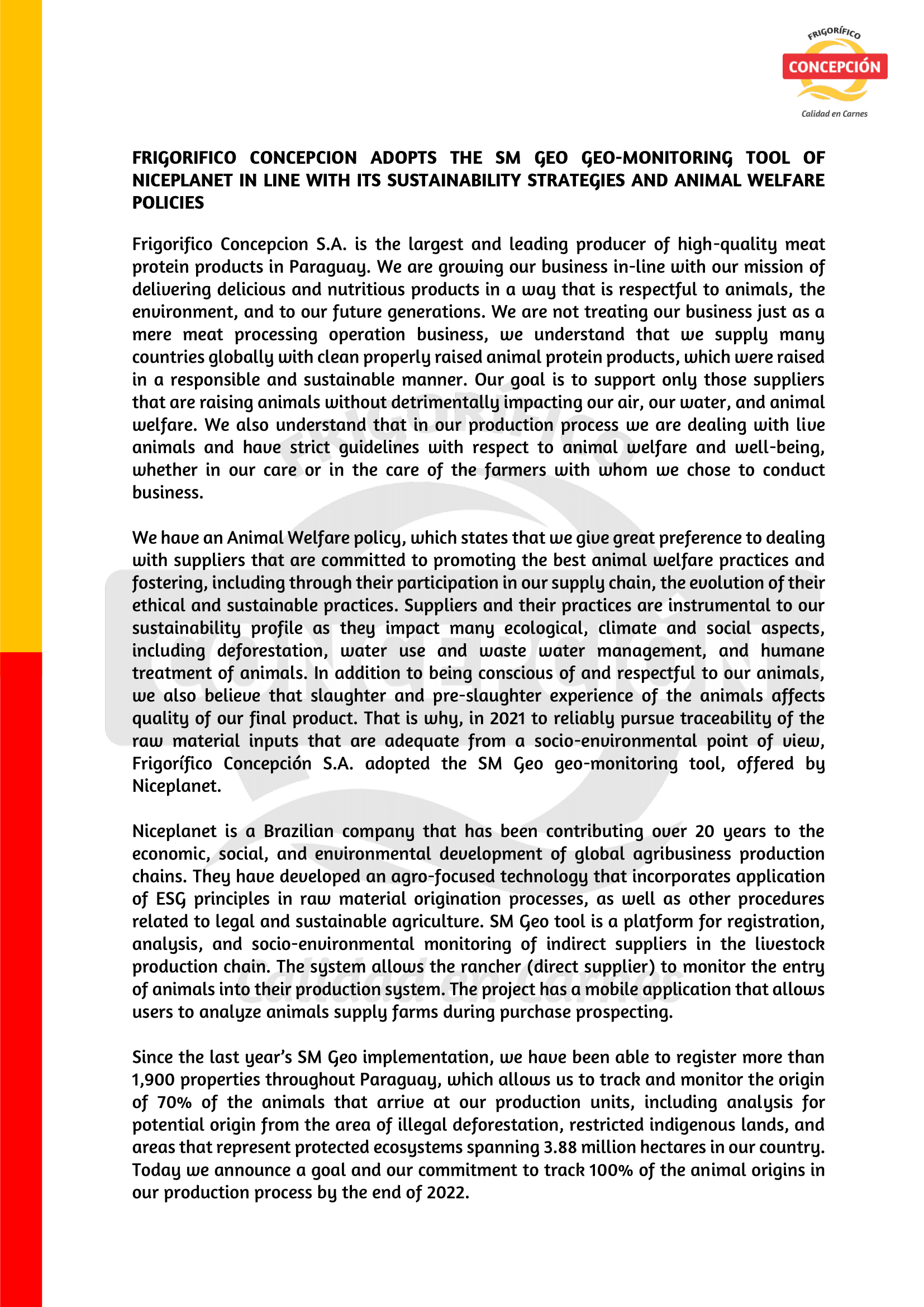 FRIGORIFICO CONCEPCION ADOPTS THE SM GEO GEO-MONITORING TOOL OF NICEPLANET IN LINE WITH ITS SUSTAINABILITY STRATEGIES AND ANIMAL WELFARE POLICIES
Frigorifico Concepcion S.A. is the largest and leading producer of high-quality meat protein products in Paraguay. We are growing our business in-line with our mission of delivering delicious and nutritious products in a way that is respectful to animals, the environment, and to our future generations. We are not treating our business just as a mere meat processing operation business, we understand that we supply many countries globally with clean properly raised animal protein products, which were raised in a responsible and sustainable manner. Our goal is to support only those suppliers that are raising animals without detrimentally impacting our air, our water, and animal welfare. We also understand that in our production process we are dealing with live animals and have strict guidelines with respect to animal welfare and well-being, whether in our care or in the care of the farmers with whom we chose to conduct business.
We have an Animal Welfare policy, which states that we give great preference to dealing with suppliers that are committed to promoting the best animal welfare practices and fostering, including through their participation in our supply chain, the evolution of their ethical and sustainable practices. Suppliers and their practices are instrumental to our sustainability profile as they impact many ecological, climate and social aspects, including deforestation, water use and waste water management, and humane treatment of animals. In addition to being conscious of and respectful to our animals, we also believe that slaughter and pre-slaughter experience of the animals affects quality of our final product. That is why, in 2021 to reliably pursue traceability of the raw material inputs that are adequate from a socio-environmental point of view, Frigorífico Concepción S.A. adopted the SM Geo geo-monitoring tool, offered by Niceplanet.
Niceplanet is a Brazilian company that has been contributing over 20 years to the economic, social, and environmental development of global agribusiness production chains. They have developed an agro-focused technology that incorporates application of ESG principles in raw material origination processes, as well as other procedures related to legal and sustainable agriculture. SM Geo tool is a platform for registration, analysis, and socio-environmental monitoring of indirect suppliers in the livestock production chain. The system allows the rancher (direct supplier) to monitor the entry of animals into their production system. The project has a mobile application that allows users to analyze animals supply farms during purchase prospecting.
Since the last year's SM Geo implementation, we have been able to register more than 1,900 properties throughout Paraguay, which allows us to track and monitor the origin of 70% of the animals that arrive at our production units, including analysis for potential origin from the area of illegal deforestation, restricted indigenous lands, and areas that represent protected ecosystems spanning 3.88 million hectares in our country. Today we announce a goal and our commitment to track 100% of the animal origins in our production process by the end of 2022.